⭐️⭐️⭐️⭐️⭐️ 4.8 Average Star Rating from over 6,000 Happy Customers"
"These earrings are adorable. The packaging its stunning and I could not be any happier with my purchase!" - Meg C.
LOVER'S TEMPO
We're all about sparking delight
When you feel your finest, you have the confidence to pursue anything you want in life. Whether it's the earrings that make you feel ready to shine during a big presentation, or the ring stack that completes your first-date-look—we design jewelry that brings a little romance to your everyday.
Customer Reviews
Write a Review
Ask a Question
08/29/2020
Nina B.

United Kingdom
Aura Double Necklace, grey.
Excellent all round. I live in the U.K. so I knew that a return might be tricky. The necklace is lovely and just how it looks on the internet. The packaging and personal touches are much appreciated. I also value your price point. To date I have ordered multiple pieces including climbers and topaz star earrings. All have been amazing.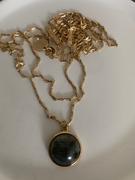 02/20/2019
Lori G.

CA
What You See Is What You Get
After what seems like hours of browsing and inspecting pictures on my computer screen, of what appear to be lovely items. One really has no idea what they're going to receive in the mail once that << sent >> button is pushed. After carefully choosing what I hoped to be 3 amazing items. I was extremely pleased with the customer service from the onset. There was immediate online follow up, that provided me a play by play of where precisely my item were to be delivered. Common I know, however there was an added "sweetness" to the language and care that was shown, towards me, the customer. When my pieces arrived, I was thrilled and relieved - I truly and wholeheartedly felt I received exactly what I ordered as per the descriptions and pictures. I was also enchanted with the personalized note, the wrapping and reusable pouch that accompanied my new darling pieces. I ordered three necklaces, and like my children, and I love them all equally! I look forward to being a repeat customer. Kindly, Lori Gardner White Rock, BC
We're so glad you love your new jewelry! Thanks for the thoughtful review.
07/14/2018
Alexandria W.

CA
Colour faded after a few wears
Bought this necklace when I was on vacation in Jasper, AB. I bought it during the Easter long weekend (end of March) and by May the colour of the chain was completely different than when initially purchased. The setting for the stone remained a vibrant gold but the chain no longer matches it as the gold colour completely disappeared and left a silver(ish) chain. Super disappointed that it faded so quickly. While the materials seem like good quality the colouring used was not. Would not recommend this necklace.
Thank you so much for your feedback. We have made some changes with this piece to help combat the issue that you encountered. Please contact info@loverstempo.com and we can help you out!